* * * This website is currently in expired state. * * *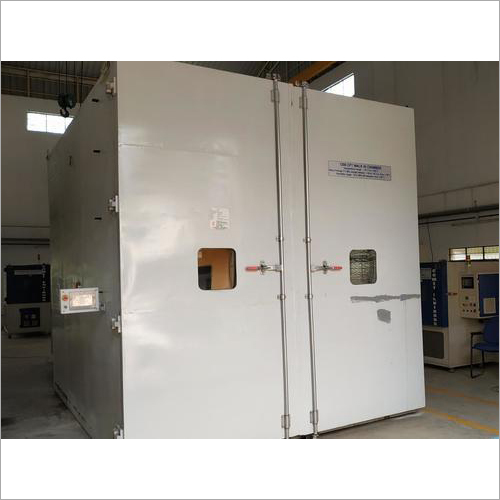 Product details
Size: 425W X 300H X 600D

Ramp Rate - 30 Degree C/ min

Temperature Range : Minus 78 Degree C / 180 Degree C

Minimum Testing Time :- 4 hour

Testing charges :- 1000 INR per hour
Overview:
Walk in test chamber is used for testing of automobile cars and other higher dimensions tests equipments. It is used for high and low temperature and humidity tests.
Compatible Test standards:
SAE J1455 ASTM IEC 60068-2, JES D22
MIL STD-202, 331,
IS 9002 part No. I, II, III, IV, V, VI, VII, VIII, IX, X, XI, XII, XIII, XIV,XV.
JSS 55555 standards
Features
Workspace dimensions: 10Ft(W) x 10Ft(H) x 12Ft(D-front to back) mm
Temperature range: Minus 55°C to +140°C, ±1°C.
Humidity range: 10 to 98% RH, ±3% RH.
Refrigeration system: Two stage cascade refrigeration system with semi hermetic compressors working CFC free environmentally friendly refrigerants.
Digital pressure display; 6Nos Wika pressure transmitter for displaying the refrigerant pressures.
Additional water chiller.
1 ton maximum equipment under tests.
Instrumentation: Eurotherm make temperature controller model Mini8 with temperature and humidity loops. No. of programs 4 programs and 6 segments. No of repeat cycles 99. Ethernet communication facility.
Schneider HMI touch panel of 7" wide colour TFD screen, 48 MB memory.
Sensors: PT 100 for temperature and solid state capacitance type humidity sensor.
Heating system: By Inconel clad air heaters located such that test specimen will not subjected to direct radiation.
Humidity system: By steam vaporizer controlled by output from temperature programmer.
Water level controller for controlling of water level.
De-humidity system: Separate refrigeration system with water cooled condenser and other refrigeration standard items