SERVICES AS BELOW
---
ANNUAL MAINTENANCE CONTRACT
1. Scope of Contract :

A. Routine servicing once in four months.

1. Cleaning, External, internal and compressor compartment including door with water and detergent. Drain will be cleaned with compressed air.
2. Condenser and evaporator cleaning with compressed air and cleaning solution.
3. Open up cascade condenser insulation and check for rust. If any rust has
formed, emery. The same and repaint with black paint.
4. Checking both door and inner gaskets and the door will be properly adjusted.
5. Electrical panel inside will be cleaned with compressed air & any loose connections are tightened. Panel door filters will be cleaned and fitted. Outside panel door will be cleaned.
6. Refrigeration insulation pipe lines and glass wool will be checked and rectified.
7. Refrigerant standing pressures will be checked. Refrigeration system will be test run along with recording of high/low stage pressures and currents.
8. Chilled water will be checked in the tank & if found dirty same will be replaced.

B. Breakdown and Emergency calls:

i. Calls will be attended within 24 hours if informed in the morning. Otherwise it will be within 48 hours.

Exemptions:

1) Soft water for filling chiller tank.
2) All external electrical wiring, switches, fuses, distribution lines etc.
3) All plumbing works.
4) All civil works.
5) Shifting of the machine from one location to another.
6) Consumable like refrigerants, door gaskets, oil etc.
7) All the defective spares and parts/components will be charged extra at actual.

2. Eligibility: The machine proposed to be enrolled in this contract should in perfect condition at the time of Enrolling & first service which will be undertaken by the contractor within 2 to 3 weeks from the date of receipt of contracted payment.

3. Site of work: As per as possible all repair works will be carried out at site of installation.

4. Facilities: Customer will provide all the service facilities like power to our service personnel connected with servicing. Centum will move fixtures, partitions or any Obstructions to facilitates proper working space.

5. Supply line
1) Customer to ensure proper rated current supply to each machine under this Contract.
2) In case of line fluctuations or imbalanced phase tapping the owner will take corrective measures to ensure proper rated supply and load.
3) Customer will promptly notify the contractor of any unusual condition of working of the Machine when noticed and switch off the machine until such conditions are rectified.
4) Any additions, alteration, adjustments or repairs carried out by any person other than Contractor during the currency of this contract automatically nullifies this contract.

6. Obsolescence: The contractor will not be liable for the losses or damages consequent or otherwise arising from Operation or failure of the machine or for work done on it or for the obsolescence or any other reasons beyond the control of the contractor.

7. Validity: The offer is valid for a period of 30 days from the date of offer.

THERMO MECHANICAL TESTING MACHINE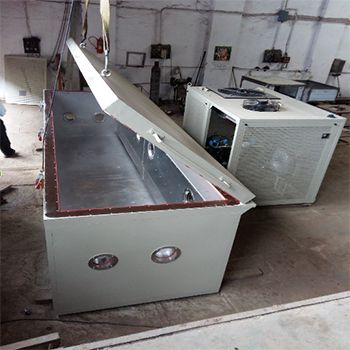 OVER VIEW:
Environmental testing simulates the different climatic conditions and mechanical stress that products are exposed to during their lifetime. Environmental testing will expose weaknesses in a products design or performance that could occur in service, particularly at extreme levels.
The string of insulators two in numbers are connected and the insulators are pulled by load cells as per TV SDS ENVIRONMENTAL TESTING.
The test conditions are +70 degree C for 8 hours and -40 degree C for 8 hours and this cycle is repeated for 10 cycles and more as per specifications.
Further humidity tests for damp heat cycling as per standards is also carried out.
Features:
Model: Cometoid-Horizontal.
Useful chamber size: 4000(L) x 925(D) x 1200(W) mm.
Temperature range: -50 degree C to +70 degree C.
Temperature regulation: 1C thru out the test range.
Cooling/Heating: +70 degree C to -50 degree C with load of 320-420 KN with 20 units per string total 2 strings.
Performance: Capable of performing different programs of 40 to minus 30 deg.C, 50 to minus 50 deg.C, 70- to 0 deg.C etc. The cycle can be programmed so as to complete the test in 96 hours.
Note : 10 programs can be set and executed as per your requirement.
SUB ZERO TREATMENT CHAMBER

OVERVIEW:
The COMETOID-VERTICAL is a sub zero treatment chamber with workspace dimensions of 900[W] x 1350[D-front to back]x900[H] mm. Its working temperature of -120 degree C to +160 degree C and it will reaches within 2 1/2 hour approximately with full load. It is rated for a gross load of 1500Kgs. The chamber is rugged and totally self-contained except compressed air and electrical power supply.

It is ideal for Cold Treatment purposes. The load can be charged by means of moving trolley or any other convenient methods available at site. It is used for sub zero temper treatment of alloy steels, testing and shrink fit production purposes, etc. Preferably it is excellent for any application that requires the temperature as low as -120 degree C And high as +160 degree C.
Salient features:
Workspace dimensions: 900[W]x1350[D-front to back]x900[H] mm.
Temperature range: -120 degree C to +160 degree C.
Pull down time: -120 degree C with load of 1500 Kgs including trays within 2 to 2 & half hours.
Temperature controller: Eurotherm controller programmer with windows based software for monitoring and recording including Rs. 232 converter with communication with PC based windows. Working on Pt-100 sensor. 16 set point programs can be stored and executed. Mimic panel for indication of functions and faults.
Refrigeration system: By mechanical four stage cascade refrigeration system using 4 stage system with low stage having imported Copeland 2 stage heavy duty semi hermetic compressor Copeland scroll compressor for high stage system working on R-404a and R-508b refrigerants. System has standards features like Oil separators, expansion valves, filter driers, suction line accumulator, expansion device etc., are so designed to give the required cooling. The refrigerants used are CFC free environmentally friendly R-404a and R-508b refrigerants.
Cooling: The high stage & low stage compressors will start sequentially to cool the temperature of the chamber to set temperature of -90 degree C.
Soaking: After reaching -90 degree C, system compressor will get off and after raise of temperature, compressor will be ON thereby maintaining set temperature of -90 degree C. Sure soak facility is provided. In case of power failure or if the temperature raises, program soak segment will automatically disconnects till the temperature reduces to set temperature band. At the end of the soaking, the programmer will automatically go to defrosting.
Tempering: The programmer is set such that in the 3rd step there will be heating to +160 degree C and in the 4th segment there will be soak time of 2 hours.
Process over: After tempering, the process over flashing lamp along with buzzer will be energized so that the operator can remove charge. The buzzer will automatically stop after preset time but the process over lamp will be flashing till the door is opened.
CRYOGENIC TREATMENT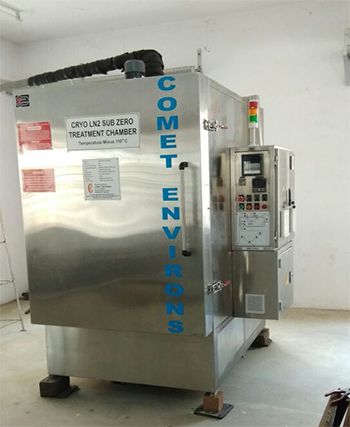 Overview
Cryogenic treatment is used for increasing the life time of tools and dies by improving wear resistance.
| | | | |
| --- | --- | --- | --- |
| Item Description | Average life before treatment | Life after cryogenic treatment | Ratio |
| Copper resistance welding tips | 2 weeks | 6 weeks | 3.00 |
| Progressive dies used in metal working | 40,000 hits | 250,000 hits | 6.25 |
| Blanking of heat treated 4140 & 1095 steel | 1000 pieces | 2000 pieces | 2.00 |
| Broach used on a C-1020 steel torque tube yoke | 1810 parts | 8620 parts | 4.75 |
| Broaching operation on forged connecting rods | 1500 parts | 8600 parts | 5.73 |
| Gang-milling T-nuts from C-1018 steel | 3 bars | 14 bars | 4.67 |
| AMT-38 Cut-off blades | 60 hours | 928 hours | 15.4 |
| 33 inch trimmer blades | 28 hours | 140 hours | 5.00 |
The cryogenic treatment confirms with aviation, aerospace and automotive requirement (AMS 2750E/CQ1-9.
Features:
Workspace dimensions: 900[W]x1350[D-front to back]x900[H] mm.
Temperature: Minus 180 degree C to +300 degree C.
Application: Using liquid nitrogen along with cryogenic solenoid valve and accessories including safety features.
Purging out of nitrogen gas to outside atmosphere.
Instrumentation: Consists of Eurotherm temperature controller with provision for data logging and graphical recording of process.
Sensor used is A class pt-100 resistance thermo meter.
Back up LN2 tank of 1000Ltrs capacity.
Charge load: Upto 500Kgs
Cycle time: Ambient to -180 degree C at 1 degree C/Min and soaking at -180 degree C for 24 hours, raising to ambient temperature at 1 degree C/Min and then finally tempering to +300 degree C.