* * * This website is currently in expired state. * * *
Vertical Thermal Shock Test Chambers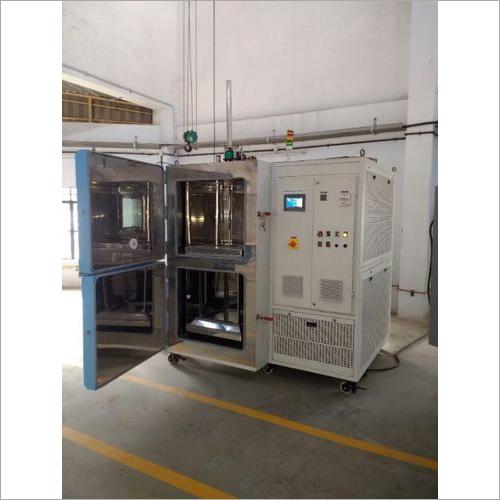 Product details
Basket Size: 480W X 480D X 625H mm
Temperature Range
Cold Zone : -65 Degree C to 125 Degree C
Hot Zone: 50 Degree C to 200 Degree C
Minimum Time Duration :- 8 hour
Testing charges:- 800 INR per hour
Thermal Shock Chambers
Overview:
Thermal shock chamber is used for rapid transferring of test components from hot chamber to cold chamber and visa versa within 10 seconds.
Complies with:
MIL STD 883-1010 & 1010.8 thermal shock requirement.
IEC 61300-2-47
JEDEC
JESDG 7C, 22-A04 & others.
IS 9002-1985 Part No.30-1
JSS55555 test No.24
Vertical thermal shock chamber:
Salient features:
workspace dimensions: 780(W) x800(D) x725(H) mm.
Basket dimensions: 480(W)x480(D)x625(H) mm.
Temperature range: -45°C to +150°C with top hot zone upto +150°C and bottom cold zone -45°C.
Basket transfer time: Less than 10 seconds.
Instrumentation: Imported Schneider HMI touch panel temperature time programmer controller & the
system will have Ethernet port and USB port for pen drive for recording.
Cooling system: Two stage cascade refrigeration system working on CFC free R404a and R23 refrigerants.
Viewing window along with halogen lamp.
Heating: By inconel clad air heaters.
Weight including basket: 40Kgs.