* * * This website is currently in expired state. * * *
Temperature Cycling Chamber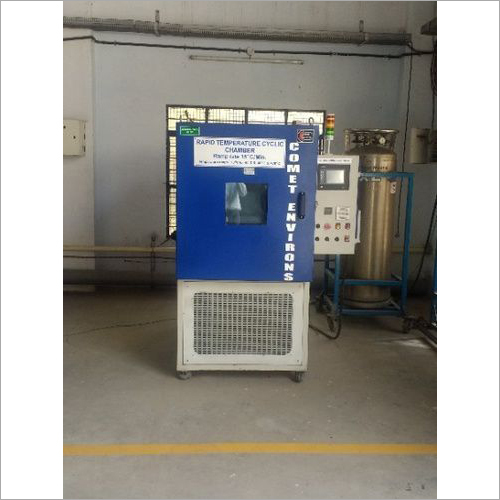 Product details
Size: 600W X 300H X 600D
Ramp Rate - 15 Degree C/ min
Temperature Range : -70 Degree C / 180 Degree C
Minimum Time Duration :- 4 Hour
Testing charges :- 600 INR Per hour
Rapid rate thermal cycle chamber is used for high temperature rate of change with uniformity and repeatability.
°C/Min. ramp rate in air and temperature of 15°C/Min ramp rate for specimen temperature. It covers various application for standards JEDLC, IEC STD, ISO STD, MIL STD for environmental stresses screening (ESS). It has temperature control for maintaining linear specimen temperature change during rapid temperature cycling and ramp controls.
Compatible Test standards:
IEC-60749-25:Semiconductor devices Temperature cycling.
IEC-60068-2-14Nb: Environmental testing change of temperature.
IEC-61147:Liquid crystal and solid-state display devices Environmental, endurance and mechanical test method.
JESD22-A105-B:Solid state devices, testing quality and reliability Power and temperature cycling.
SAE-J1211: Automotive components Recommended environmental practices for electronic equipment design.
Salient features:
Workspace dimensions: 600x600x600 mm.
Temperature range: +70°C to -40°C & -40°C to +70°C.
Ramp rate: 15°C/Min.
Instrumentation: HMI touch panel of 5
Communication: Ethernet.Cascade refrigeration system with two compressors.
CFC free R404a and R23.
Port holes with rubber stopper.
Viewing window with interior halogen lamp.
Stainless steel perforated shelves.