* * * This website is currently in expired state. * * *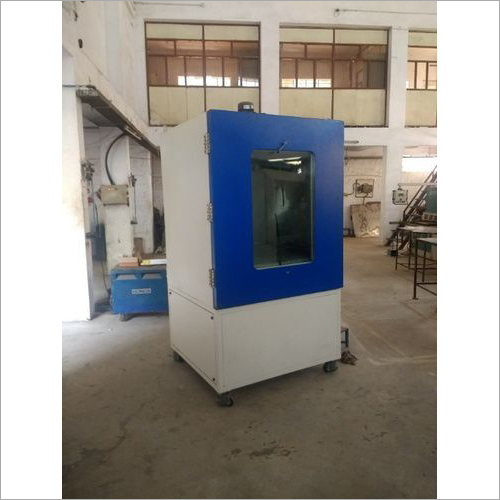 Product details
Workspace Dimension: 1000W X 1000D X 900H mm
Temperature Range: Ambient to 55 degree C
Minimum Testing Time :- 8 hours
Testing charges :- 500 INR per hour
Overview
These chambers are used for checking ingress of sand and dust in luminous, plastics and automotive IP5X and IP6X tests.
Needs specifications of:
IEC 60529, DIN40050, IP5K0, IS9000 – 1981 Part 12,
JSS 55555 – test No.14.
SAE J575 sub paragraph GJ-ISD0207
ASTM C150-77
Salient features:
Workspace dimensions: 1000(W)x1000(D-front to back) x 900(H) mm
Temperature range: Ambient to 55°C.
Humidity: Less than 50% RH(workspace should be dry).
Instrumentation:
By microprocessor based temperature controller.

Agitation timer.

Settling timer.

Cycle counter.
Dust used for this test shall be dry.
Approved dust types: Equivalent to Arizona dust, Portland cement dust and 213 silica sand.
Dust measuring device: This device shall be kept at any place within the chamber. The
Dust laden air will be circulated and dust is allowed to settle down. The amount of
Dust collected for different agitation time and settling time is measured and recorded.
Viewing window: Full size viewing window & wiper along with halogen lamp.
Port hole with rubber stopper.
SS wire mesh shelf above agitator.
Safety:
MPCBs for motor.
High temperature cut out in case of temperature overshoot.