Send Inquiry
Thermal Shock Test Chambers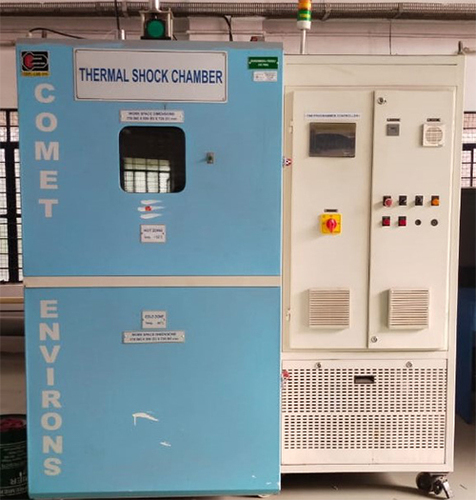 Thermal Shock Test Chambers
Product Code : TSC
Brand Name : COMET ENVIRONS PVT. LTD.
Thermal Shock Chambers
Established in the year 2005, we are counted amongst the most noted manufacturers and suppliers of Thermal Shock Chambers. Our offered chambers are wide in demand among clients for use in space research programs and research stations. Basic use of these chambers is to test & analyze the value of thermal shock resistance for instruments and components. Adjustable temperature controller, CFC free refrigerants and excellent insulation of polyurethane foam are the distinctive features of our Thermal Shock Chambers. Our clients can get these chambers from us at cost effective prices.
Technical Specifications
Application

To test electronics components and modules as per MIL, JSS, IEC, ASTM, standards etc

Model

Cometair-TSC

Type

Two zone up and down movement

Volume

90 Ltrs

216 Ltrs

Workspace dimensions

450x450x450mm(WxDxH)

600x600x600mm(WxDxH)

Power supply

415Volts, 3-phase, 50Hz, with neutral

Connected load

7 kws

12 kws

Temperature range

Hot zone: 40 deg C to +250 deg C
Cold zone: Ambientt to -60 deg C

Temperature tolerance

61 deg .C thru' out the range

Test Speciment movement speed

With in 15 seconds

Instrumentation

Eurotherm temperature programmer controller capable of performing 20 programs with unlimited segment and repeats. PC based RS232 serial communication is provided. Additional ITools software to interact with PC.
PLC package for function and faults.
Mimic panel along with test lamp module for status of components

Insulation

Polyurethane foam(PUF) for both body and door

Thermal breaker strips

Stainless steel 304 strips backed up by tracer tape heaters

Refrigeration

By mechanical two stage cascade refrigeration with hermetic compressors and CFC free refrigerants

Air circulation

By high volume air circulation blowers connected to external extended SS shaft motors

Port hole

50mm dia port holes with silicon plugs

Heating

By inconel clad air heater situated such that no direct radiation falls on test specimen

Safety features

Time delay in starting of compressors
Pressure switches in refrigeration system
High temp. safety cut out in case of temperature overshoot
Adjustable product safety temp. controllers to safeguard components.